Putting the magic back in libraries (I honestly didn't know it was missing)
I love this, rainbows, libraries and whimsy – and it's a grad project by Valérie Madill a master's student at my old Alma Matter.. Emily Carr University.
where is the magic
"Why is it then that the magic, mystery, adventure and knowledge is not sensed when entering a library? It is disgraceful that a library should be considered dull and stuffy. After observing Academic libraries, how they function, who uses them, how they are used, when they are used, what they look like, what expectations are, what frustrations are… I discovered many things, and decided the most notable design solution would be one applicable to all libraries, big, small, regardless of the physical shape and structure. In terms of library architecture, I came across some brilliant spaces, I even designed my own ultimate library in terms of placement, aesthetic and although I had some very important key factors established, I quickly realized the varying shape and infinite possibility of library architecture was part of the magic I did not want to lose."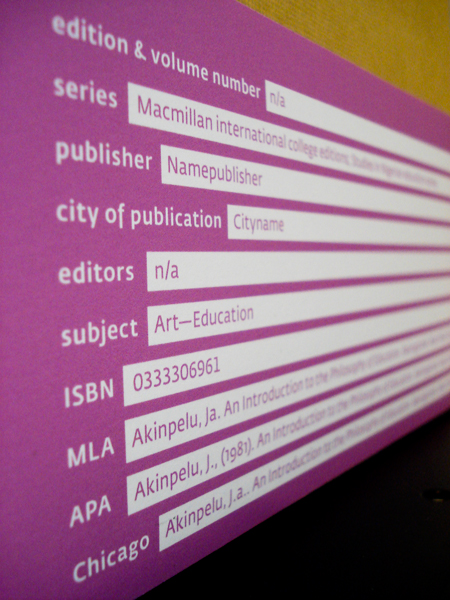 (Also note she built her site with Built with Indexhibit – lots of artists seem to like it).